As I scope and poke around for decor ideas and inspirations, I've noticed one of the common threads in houses with a wow factor is they all treat every room like it's a special room. Meaning, not only dining rooms and living spaces get decked out with design elements such as candles, chandeliers and accent rugs, but laundry rooms, bathrooms, and walk-in closets do, too. I appreciate and see why it makes sense to give the usually overlooked rooms some love, too. Even though we don't lounge or entertain in there, we still spend some time in those rooms and plus, it's still an extension of our home. And why not make the laundry room feel like a beautiful space to work in while doing something that's anything but glamorous?
I've decided that over-the-top opulent chandeliers are not the way for me when it comes to dressing up these "other rooms." I just want to give it a hint of warmth and elegance, nothing too grand. I like the idea of using capiz pendants and lights for this purpose. Capiz is the name of the translucent outer shell of oysters found mostly around the Philippines. They're delicate and exquisite yet casual in essence. Pieces made out of Capiz range in price, so there's an abundance of choices for every budget.
Here are some of my favorite sea-inspired fixtures that I've been considering:
1. World Market White Capiz Linen Pendant Lamp, $129.99
2. West Elm Capiz Orb Pendants, $149-$299
3. Restoration Hardware Capiz Shell Pendant (18″), $325
4. World Market Large Capiz Lotus Hanging Pendant Lantern, $149.99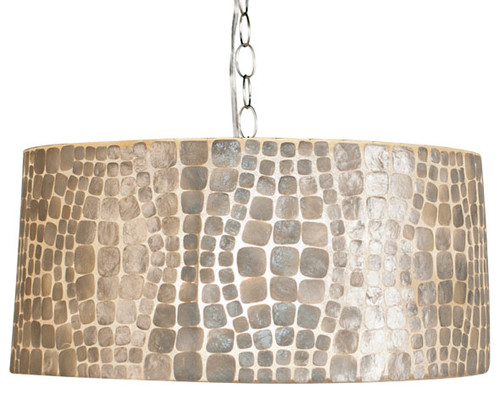 5. Houzz Cobblestone Coastal Beach Capiz Shell Round Pendant, $688
I'd love to know which is your favorite, and what room you think it should belong in!